Interactive Metronome® (IM) is an evidence based, engaging therapeutic modality that improves cognitive and motor skills.
Read More
IM Works. Find Out How it Can Impact Your Practice
With IM you can easily scale & grow your practice, all while achieving better patient outcomes!
Learn More About IM
IM is an industry leading Biometric technology that measures and improves human timing.
Learn how IM works in just 60 seconds
View our infographic to discover how IM works on the body and mind simultaneously in a motivating and engaging way in order to improve the critical timing skills that underlie all of our human capabilities (i.e., speech, language, attention, memory/learning, reading, motor skills, self-control, etc).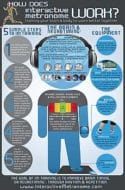 Results with Interactive Metronome®
Thousands of clients, case studies & clinical testimonials demonstate effectiveness
New to IM?
Real World Application for Pediatrics and Adults
Schedule a Time with Your Rep!
Latest News & Blog Posts
What's new with IM? Check out the latest blog posts and news section.