Interactive Metronome® (IM) is an evidence based, engaging therapeutic modality that improves cognitive and motor skills.
Read More
Learn More About IM
IM is an industry leading Biometric technology that measures and improves human timing.
Learn how IM works in just 60 seconds
View our infographic to discover how IM works on the body and mind simultaneously in a motivating and engaging way in order to improve the critical timing skills that underlie all of our human capabilities (i.e., speech, language, attention, memory/learning, reading, motor skills, self-control, etc).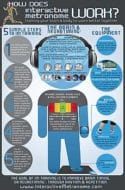 What is Interactive Metronome®?
IM is engaging, flexible and provides objective measurements.
Interactive Metronome (IM) is an objective assessment and training tool that improves neural synchronization and function in children and adults who display impairments in cognitive, communicative, sensory, motor and/or academic/vocational performance.  Training plans are individualized to meet the unique needs of each person.
Learn More
Used by 30,000+certified IM providers
Over 5,000clinics, hospitals and universities
in 30+ CountriesIM is based in the USA
Become a provider, request more information